Bare Knuckles Tattoo
9111 Maccorkle Ave | Marmet, WV 25315-2025 | 304.925.8240
---
Custom Tattoos at affordable prices.
---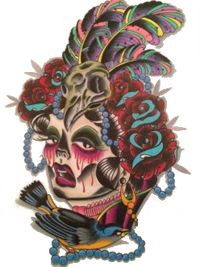 ---
Bare Knuckles Tattoo, West Virginia's award-winning tattoo studio in Marmet just outside of Charleston. Our studio only employs professional artists who will work with you from your first consultation and through the design process. This will make sure you get the fully custom tattoo that you are looking for.
In addition to our full-time artists, we have guest artists that will travel to the studio from time to time. This allows us to give our clients with the chance to get a piece of artwork from an artist they might not been able to travel to before.
Make sure to follow us on social media to stay up to date with our guest artists, studio events, travel dates and information on upcoming tattoo conventions that Bare Knuckles Tattoo will attend throughout the year.